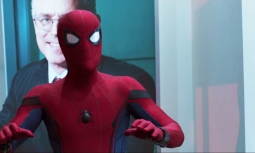 For me, the third incarnation this millenium of everybody's favourite neighbourhood spider-man is a victim of saturation. Whilst the writing steers clear of yet another origin story (Uncle Ben is conspicuous by his absence, although rumours abound regarding future instalments), this is another generic superhero movie, with a protagonist getting to grips with his new-found powers, a questionable villain - who advocates staying under the radar whilst flying around in a vulture suit with a five metre wingspan dressed like a Second World War pilot - and a very cloying twist.
Marvel stalwarts Jon Favreau and, to a lesser extent, Robert Downie Tony Stark Jr. appear from time-to-time to remind the audience that this is important because it's all building to some ridiculous climax and then after that, who knows.
Yes, it is a lot of fun. But it's not like we've not had this fun before.