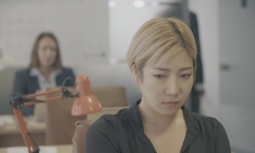 The start of September saw the release of the "Gone" music video for The Vile Assembly.
Moving into Autumn the production schedule at TBN picked up a pace. In early September, Mark and his Producer colleague Leila travelled to Birmingham to shoot interviews with the speakers at the Revival Alliance, and that was quickly followed with a trip to Northern Ireland where Mark and crew partnered with local filmmaker Rob Curry to film an outdoor live event, "It's Time", in the middle of a howling gale. It was something of a unique experience: positioned 60m from the stage, Mark found himself manning the master mid-shot having to use the screens at the side of the stage as his monitor!
September also saw Mark direct two debut music videos for Christian artist John Fleming, as well as a new church music-focussed series for TBN called "Sacred Harmony", hosted by Simon Lole.
Into October, there was no abating in the TBN schedule. A slate of new series ("Transforming Life", "Africa, Christianity & the Bible", a pilot with the London School of Theology) coincided with pre-production on a new brand ad for the channel.