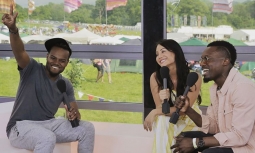 The first half of this year has been something of a rollercoaster. First and foremost, I feel I should briefly mention what's been going on for me personally, for no other reason than to progress away from the taboo...
At the end of 2017 it became quite clear that anxiety, stress, and the associated depression was getting the better of me, and so I sought help through my GP and, latterly, through talking therapy. I'm soon to complete an NHS course, which has had a tremendous effect, helping to put things that would once overwhelm me into perspective, and also developing my ability to read myself, my thoughts and my feelings, such that I can recognise and cope with my particular triggers with some confidence.
Directing-wise, I've made (a ridiculous) 11 brand new TV series in the first half of this year, all for TBN UK broadcasting on Freeview and Sky. And on top of that I've made episodes for another 16 series. 291 episodes of TV altoghether. (And I used to wonder why I get stressed!)
A couple of highlights: Principle Director on Big Church Day Out 2018, a big music festival for TBN, looking after 5 different crews and producing 32hrs of broadcast content (coming to schedules in the Autumn); and God In A Cage, a new show hosted by Darren Wilson of WP Films.