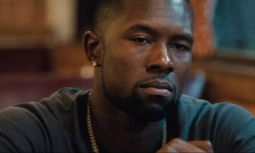 Three ages of a homosexual man living in Miami are explored in Barry Jenkins's Oscar contender.
The director draws directly from his own experiences of his mother, a drug user, in constructing this ensemble piece. Naomi Harris (the only actor present in all three acts) gives everything to the mother of Chiron - aged 9, 16 and early thirties - as he struggles to make sense of his sexuality.
The cast all excel emotionally but, as Jenkins himself has alluded to, the physicality of the eldest incarnation of Chiron feels slightly at odds with this previous characterisations. This took me out of the experience somewhat, but by no means ruined the film, as the emotional weight of 30-something Chiron's history are drawn painfully upon his face.
Stylistically, the high contrast of Miami is referenced, the largely classical score is a strong counterpoint to the lives under exploration (not unlike in Requiem For A Dream), and the camera is often rigged to give that clear sense of underlying chaos and tension.