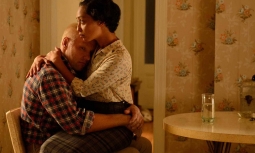 Much like the real-life characters at its heart, this film is an unassuming homage to the couple, Mildred and Richard, whose plight changed the American constitution in favour of the right to marry whomever one chooses, regardless of background.
The pace is creepingly slow and, thanks to one or two moments of rapid acceleration, feels a little uneven. [Spoilers] Even the conflict at the heart of the drama is given a light touch, everyone begrudgingly complicit in the fate of the couple, and -- possibly unbelievably -- unwilling to take a stand. Bail money is on tap. A symbolic motif is revisited a dozen times.
It feels lazy, but the aim is to show the unrelenting stoicism of the affected couple. When Richard grows tired of the legal process, he overcomes it by smoking a cigarette. The film is beautifully shot, and the performances of Ruth Negga and Joel Edgerton are what you pay to see here. Don't expect anything more than a sober character piece.