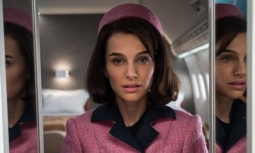 My instincts tell me there is something inherently unfilmic about a biopic. At some point between reality and retelling, some detail must be lost, or added, and that knowledge -- that what you see contains at least some embellishment -- has a tainting effect.
Here, Pablo Larrain and Natalie Portman recreate -- largely in close up -- the week experienced by Jackie Kennedy following the assassination of her husband. The experience is naturally intimate; Portman moves in a well-practised shuffle and affects deep sympathy, particularly when [spoilers] the camera virtually rests upon her nose as she washes her husband's blood from around her eyes.
The director chooses to sparingly insert archive footage into proceedings (a choice that feels imbalanced and has the effect of moving the action further from that of a narrative film), and I am unsold on the quadruple threads of narrative employed across the piece. Yet it is the presence, or rather the absence, of the actual subject -- famous as she is -- that ultimately detracts from the accomplished filmmaking on view.
I ask myself the question: is it possible to make a truly disbelief-suspending narrative portrait of one so firmly in the public eye?