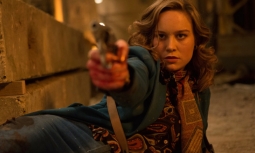 A return to top form (in my opinon, at least) from Ben Wheatley and co., in this gangster romp set in 1970's Boston. Wheatley and Amy Jump are nothing if not the masters of write within your means, staging all but the most fleeting moments of Free Fire within a single warehouse space.
The film features an ensemble cast, with characters largely written after the casting process. This gives every part great autheticity -- even when dipping into pastiche -- and every actor makes the most of the personalisation afforded them.
All the hallmarks of previous Wheatley Rook Films productions are present: great dialogue and improv, edge of the seat sequences, and some of the best special effects in the business. Yet, possible unexpectedly, it is the sound design which sets the film apart -- it really is on a par with the likes of Saving Private Ryan and We Need To Talk About Kevin.