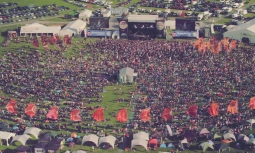 The month of May was dominated by Big Church Day Out 2017, a two-legged music festival for which Mark directed 32 hours worth of broadcast programming. The shows will be hosted by Lavinia and Adaeze of Juicy Ladies fame, and feature the main stage acts - including the likes of Michelle Williams and Mary Mary - interviews with the top performers, stories from the punters, and all the sights and sounds of the festival.
In addition, Mark managed to fit in a music video shoot for newcomers The Vile Assembly (thanks in no small part to the sterling work of producer Jonny Evers). Their debut single, Suicide Feast, will be released on Vial Records on 28th July.
On top of all that, Mark directed two brand new series for TBN UK: the 14-part series Now Living, hosted by Javen, and 8-parter Embracing The Challenge, hosted by Gabriel Chan.