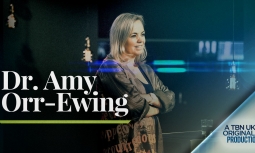 Just recently back from a family roadtrip around New England, the first significant show I directed was A Study On... for TBN UK, hosted by Dr. Amy Orr-Ewing. For this one I did the whole physical creative -- set design, lighting design and multi-camming. Over the years, as you might imagine, there's has been an awful lot of solo piece-to-camera content to make, and this one, with its modest budget, I'm rather pleased with.
Props must go to Graham, Maria and Jason in the Post-prod department for bring the graphics to life too.
You can check it out on demand on the TBN UK website.